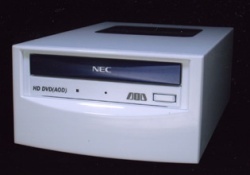 NEC
has built and demonstrates the first optical drive with a dual red/blue-laser optical head. The single head is capable of reading both existing red-laser based DVDs as well as next-generation blue-laser based HD-DVDs.
NEC and Toshiba's
Advanced Optical Disc
(AOD) technology was
approved by DVD Forum
to be a candidate for next-generation HD-DVD discs. Meanwhile
Sony
is doing its best to push the
Blu-Ray
format, aka
Professional Disc for DATA
(PDD).
Two HD DVD format specifications are currently being promoted for standardization by. One is the ROM (read-only-memory) disc with 15GB of storage capacity on a single layer and 30GB on dual layers and the other is the rewritable disc with 20GB of storage capacity. In November, the DVD Forum's steering committee approved the proposed HD DVD-ROM format in version 0.9.
Sony is currently focusing on data storage markets with its PPD technology, and is already shipping products to OEM manufacturers. NEC will be demonstrating the dual-format AOD drive next month at 2004 Consumer Electronics Show in Las Vegas, USA. However a final product will probably take quite a while to hit the stores.
Links:
Professional Disc for DATA homepage
Source:
NEC press release