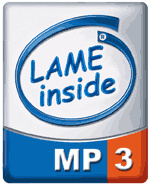 A new version of LAME MP3 encoder has landed with a stable version status. It includes the significant modifications already demonstrated in the 3.94. Even though this version is advertised as stable, it has not gone through the extensive user testing that has been done for the older
3.93.1 version
. Therefore caution and testing is recommended before using this encoder for archival purposes.
LAME 3.95.1 January 12 2004
fixed a crash when using vbr-new
changed ReplayGain reference level to 89dB
LAME 3.95 January 11 2004
fixed lowpass values when using vbr with mono files
faster quantization loops
faster count_bits
fixed a buffer requirement error in ACM codec
fixed mpglib and other decoding support code to prevent the crash when invalid mp3 input
removed Layer I decoding support
use FastLog and IEEE 754 hack on PowerPC too (approx. 10 percent faster)

Click HERE to download.