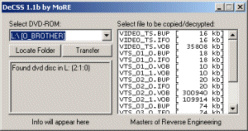 The
DVD Copy Control Association
has unexpectedly asked California Supreme Court to dismiss
the case
against
Andrew Bunner
. Bunner was sued by DVD-CCA for distributing the source code to
DeCSS
on his website.
DeCSS, the software that decrypts scrambled DVDs, has been in the headlines for well over
four years
now. Hackers were able to create DeCSS thanks to the fact that
Xing Technology Corporation
neglected to encrypt the CSS decryption key in their DVD player software. DeCSS opened a whole can of worms, and some of the lawsuits that emerged have drawn to a close only
very recently
(see related articles below).
Bunner's attorneys were obviously pleased by the surprising decision.
"
I think that they are sick of losing,
" said
Allonn Levy
, one of several attorneys who had worked on the case on Bunner's behalf. "
I think they have finally reached the conclusion that it is not a fight that they can win.
"
The case against Bunner was the last major DeCSS-related lawsuit still unsettled. The case against DeCSS author
Jon Lech Johansen
ended in January, when the Economic Crime Unit of the Norwegian police decided to
drop the case
.
Source: News.com