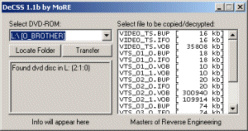 Jon Lech Johansen
who was acquitted of all charges twice by Norwegian courts is now looking for compensation from the economic crime unit of Norwegian police,
Økokrim
. For his four year endeavour with the lawsuit, Johansen is asking a compensation of almost NOK 150,000 ($21,800).
The implications of the case must have been huge on Johansen's life and future, so the demands are absolutely reasonable. Økokrim has not yet commented on the demands.
Source: Aftenposten