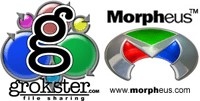 The representatives for both the entertainment industry, and the P2P companies
Grokster
and
Streamcast Networks
gave their statements in the
landmark P2P case
. The arguments were presented before a three-judge panel for the U.S. 9th Circuit Court of Appeals in Pasadena, California.
The entertainment industry called for blocks and filters to be implemented in P2P software limiting the sharing of copyrighted material.
"
They can be ordered by this court to do something to control the use of their software
, said
Russell Frackman
, attorney for copyright holders represented by movie and music industry groups. "
Filters and blockers can be put into place that will limit the (copyright) infringement.
"
The lawyers for both Grokster and
Morpheus
said that such filters would effectively shut them down. They also repeated their view on software manufacturers not being responsible for possible illegal uses of their products.
Morpheus attorney
Fred Von Lohmann
commented after the hearing, that the filters aren't exactly what the entertainment industry is after. "In reality, they want to shut us down, and this is not the job of the courts," Von Lohmaan said.
Source: News.com