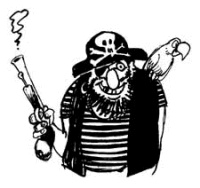 The free trade agreement between the United States and Australia, which was finalized in early February, imposes many American copyright standards on Australia. The Australian copyright laws had been quite flexible before the agreement was drafted. Now many aspects of laws such as the
Digital Millennium Copyright Act (DMCA)
will be implemented in Australia as well.
The
factsheet
from United States Trade Representative lists the details included in the trade agreement. The agreement, for example, "
establishes strong anti-circumvention provisions to prohibit tampering with technologies (like embedded codes on discs) that are designed to prevent piracy and unauthorized distribution over the Internet
" and "
establishes that only authors, composers and other copyright owners have the right to make their work available on-line
".
It is quite obvious that the recent
raids
in Australia, that were conducted by the anti piracy branch of Australian music industry, MIPI, were related to the newly crafted trade agreement. It remains to be seen how the agreement affects, for example, the status of mod chips in Australia. Last August Australian Federal Court
ruled
that it's legal to modify a Playstation console to play imported and pirated games.
Correction:
The modchip ruling was later
overturned
by an appeals court. Hence modchipping is illegal in Australia. Thanks to Dale Clapperton,
Electronic Frontiers Australia
Board Member for providing the correction.
Please also see
EFA's media release
on their views about the Free Trade Agreement.
Source: Slyck