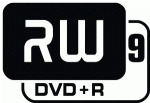 The supply of DVD+R DL media is on the increase, as brands and manufacturers are launching their DL product lines. The latest to jump on the DVD+R DL bandwagon is Imation. For years Imation has been one of the largest and most visible recordable media brands, relying on CMC Magnetics products.
Imation Unveils Double Layer DVD Media

New DVD format holds up to four hours of video or 8.5GB of data files on a single side

OAKDALE, Minn. (August 3, 2004) — Imation Corp (NYSE: IMN), a worldwide leader in removable data storage media, today introduced its new double layer DVD+R media — the industry's next advancement in DVD technology to meet the increasing storage requirements of consumers for high-capacity applications, such as digital video. The new disc nearly doubles the storage capacity of a DVD recordable disc from 4.7GB to 8.5GB on a single side, without having to turn the disc over during recording.

"Double layer DVDs meet the demand for high capacity media needs of consumer applications such as digital video recording or editing. Double layer Imation DVD+R DL media will enable users to record nearly double the data on one disc," said David Ferraresi, vice president, Imation Optical Products Business. "By expanding our line of optical media with double layer DVD discs, we are able to provide users with the most advanced storage solutions they need to better manage and store their digital information, while maintaining the highest degree of reliability and protection for that content."

Imation DVD+R DL media can store up to 8.5GB of data, which equates to four hours of DVD-quality video or 16 hours of VHS — quality video, and are ideal for storing important personal and business videos — from home movies and sporting events to company conference recordings and customer profiles. The discs are also useful for creating digital photo archives and backups of important files and applications on computer hard drives.

Imation DVD+R DL media maintains playback compatibility with existing DVD video players and DVD-ROM drives, but requires a dual-layer burner to record. The new media achieves a higher capacity by using a dual-layer DVD+R system with two thin embedded organic dye films for data storage, which are separated by a semi-reflective layer and a spacer layer.

Imation DVD+R DL media will be available through Authorized Imation Distributors, Resellers and retailers in Q4 2004. Imation will offer its double layer DVDs in single jewel cases, multi-pack jewel cases and movie video boxes. For more information on Imation's full portfolio of removable data storage media products, visit www.imation.com.
Source:
Imation.com