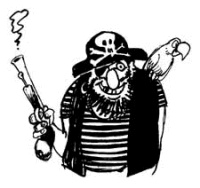 United States attorneys general from 47 states and territories have sent an open letter to peer-to-peer vendors. In the letter the AGs demand that P2P companies should do a better job in warning users of the dangers of trading illegal files.
The demand is much in the lines of "Warning! Hot coffee is hot!" and "Warning! Smoking endangers your health." Some companies have already warned their users about the possible consequences of sharing illegal content, but that's not enough. "
However, more needs to be done by your companies to warn your P2P users as to the specific legal and personal risks they face when they use P2P technology for the illegal ends of disseminating pornography and 'sharing' copyrighted music, movies and software,
" the letter says.
The letter demands, for example, that centralized filtering systems should be implemented to remove illegal content from the networks. P2P trade group
P2P United
CEO
Adam Eisgrau
said, that implementing filters is against the nature of P2P software. "
That cannot be done without radically changing the innovative nature of this software
," Eisgrau said.
According to
MPAA
and
RIAA
the entertainment industry loses billions of dollars each year to piracy. However instead of trying to take advantage of the possibilities offered by P2P, the industry has adopted the way of trying to intimidate everyone away from their P2P sharing habits.
Source: NetworkWorldFusion