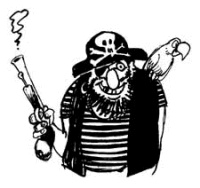 Assistant Attorney General for antitrust,
Hewitt Pate
, took a small swipe at the
Pirate Act
, a law that encourages federal prosecutors to sue copyright infringers. The recording industry has been pushing the Pirate Act as an attempt to deter file swappers on P2P networks out of fear of potential Government Lawsuits. Pate referred to the Pirate Act as
"something that people should take with a grain of salt"
at a conference held by the Progress & Freedom Foundation.
Pate said the Justice Department's position on the Pirate Act would appear in a task force's report that will be presented to Attorney General
John Ashcroft
this fall. The intellectual property task force was created by Ashcroft in March and is headed by
David Israelite
. Senior Vice President of Government Relations at the
RIAA
,
Mitch Glazier
said that Pate's comments
"weren't that negative"
. He went on to say that if the Pirate Act becomes law, prosecutors would
"now have a choice of how badly they want to hurt the violator."
Copyright Lawyers and lobbyists for peer-to-peer firms are alarmed by the Pirate Act. They have been watching the RIAA's action on P2P users very closely and fear the Justice Department could be more ambitious in the hunt for Copyright Infringers. Sen.
Orrin Hatch
, R-Utah, showed his support for the Patriot Act stating,
"Tens of thousands of continuing civil enforcement actions might be needed to generate the necessary deterrence, I doubt that any nongovernmental organization has the resources or moral authority to pursue such a campaign."
. Federal Prosecutors can file charges against P2P users using the
No Electronic Theft Act
which passed in 1997. In 2002, a letter from Congressmen to Ashcroft requested the prosecution of Americans who
"allow mass copying from their computer over peer-to-peer networks."
Not one P2P Criminal Prosecution has taken place in the U.S.
While Pate showed he was skeptical of the Pirate Act, he also called for mandatory eavesdropping access to be provided by broadband and Internet phone companies, stating that
VoIP
cannot be left without Law Enforcement Control as it was a threat to National Security.
Source:
News.com