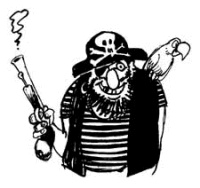 Governor or
California
,
Arnold Schwarzenegger
, has dealt a serious blow to file sharers in California by signing an Internet piracy bill that would require all P2P users disseminating movies or music on the Internet to disclose their e-mail address. This is also a serious blow to the anonymity that the
privacy rights
of most P2P users should guarantee. It would seem that Schwarzenegger is just helping his buddies at the
MPAA
who have helped him to get to where he is today. The
Electronic Frontier Foundation
and the
American Civil Liberties Union
say the measure infringes on privacy rights of computer users and would turn casual file-sharers into criminals.
P2P users who share movies and music online without providing a valid email address would be guilty of a misdemeanor, under the first-in-the-nation measure that could make it easier for law enforcement to track down people who illegally download copyrighted material. This bill is the latest attempt by the movies and music industries to battle P2P networks, which have proven already to be hard to police. The MPAA has hailed the signing commenting that Schwarzenegger has
"a unique understanding of the powerful impact of piracy"
.
Source:
Sfgate.com