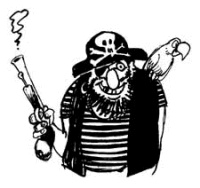 A Scottish man was jailed for 9 months after being accused of pirating
£750,000
worth of Software.
Brendan Timoney
, 40, of the village of
Coatbridge
, in north
Lanarkshire
pleaded guilty to eight charges brought against him at
Airdrie Sheriff Court
. He had been selling
Microsoft
and
Adobe
software illegally. He carried out his actions at his brothers and mothers homes as well as his own. Both his brother
Paul
, and his Mother
Rose Margaret
were also charged but found innocent as there was no evidence against them.
This is the kind of piracy that police should be making their
"highest"
piracy-related priority. No matter where you live these days, you will often see people selling pirated movies and music mostly on the street while some form of major event is taking place. Where I live in Ireland, I have myself had an encounter with men who called to my door with a black bag full of pirated DVDs, most of which were not even in theatres yet. Most of the people I've asked have also had the same experience. While I have no doubt that many of these movies may have been sourced on the Internet, encoded to DVD and then burned several hundreds or thousands of times, police forces and lawmakers should target the people who sell it mainly. Most
file-sharers
on the Internet disagree with the selling of pirated goods which is something that you don't hear from either the
movie or music industries
but is a very true fact. To prove this, simply look up a P2P forum somewhere and have a look and you won't be long finding people complaining about sellers.
I decided to report this news on the site just to see what kind of comments could be raised about the prioritizing of piracy crackdowns in a digital world.
Source:
The Register