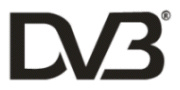 The
DVB Steering Board
has approved the addition of two new codecs to be used for broadcast Transport Stream. The codecs accepted are the
H.264/AVC
video codec (MPEG-4 Part 10) and the
High Efficiency Advanced Audio Coding (HE-AAC)
audio codec.
The new document mandates support of Main Profile for H.264/AVC SDTV receivers, with an option for the use of High Profile. The support of High Profile is mandated for H.264/AVC HDTV receivers.
Peter MacAvock
, DVB's Executive Director said: "
This document is one of the most important DVB documents, and a key to ensuring the interoperability of DVB equipment and transmissions. It is the basis of all MPEG-2 DVB decoders in the market. The addition of H.264/AVC and HE-AAC paves the way for using these exciting codecs in mainstream DVB applications like HDTV.
"
The earlier DVB specification included
MPEG-2
video,
MPEG-1 Layer II
audio,
Dolby AC-3
audio and
DTS
audio.
Source: DVB.org Press Release