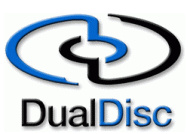 A new optical media format is now available, as first commercial implementations of DualDisc have been shipped out. The Dualdisc refers to a two sided disc, with DVD content on the other side and CD audio on the other one, so don't mix this with
Dual Layer
.
What Is A DualDisc?

DualDisc has both a CD player side and a DVD side, allowing artists to create in exciting new ways using audio, video and computer content - all on a single two-sided disc.

What Is On A DualDisc?

One side is the full-length CD audio album. The other side offers DVD content. This may include enhanced album audio, 5.1 surround sound, music videos, artist interviews, behind-the-scenes footage, documentary films, photo galleries, lyrics, computer-ready digital song files, and Web links. It all depends on the artist.
Naturally this format is used to deliver added value to music records. The first commercial releases include new
Nine Inch Nails
and
Blondie
albums, which include 5.1 surround sound and video material on the DVD side.
Major and independent record labels today announced the first-ever retail availability of the much anticipated DualDisc -- a two-sided disc made up of a CD player side and a DVD player side. A broad range of titles have begun to hit retail shelves in the first wave of products that will continue throughout the holiday season and into next year with releases from EMI Music, Silverline Records, Sony BMG Music Entertainment, Warner Music Group and Universal Music Group.

DualDisc is a new music product that combines audio and video content on a single disc. In addition to a full album on the CD player side, the DVD player side provides the full album in enhanced sound (such as Surround Sound and/or DVD-Audio or LPCM stereo), and also includes a wide range of special features and exclusive content such as music videos, interviews, photo galleries, web links, concert footage and lyrics.

Some of the more than 50 titles being released on DualDisc during the next several weeks.
Source:
Yahoo!
and
DualDisc.com