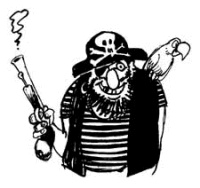 On Tuesday the
Justice Department
got it's first ever convictions for copyright piracy perpetrated on
P2P networks
. Two men who were caught in the department's
"Operation Digital Gridlock"
pleaded guilty to felony intellectual property crimes.
William Trowbridge
, 50, of Johnson City, N.Y., and
Michael Chicoine
, 47, of San Antonio each pleaded guilty to one count of conspiracy to commit felony criminal copyright infringement before
Judge Paul Friedman
in the
U.S. District Court
for the District of Columbia. The men operated
Direct Connect Hubs
which allowed it's users to share copyrighted material with each other.
On these Hubs, users apparently had to share a minimum of 100GB to gain access.
"As today's pleas demonstrate, those who steal copyrighted material will be caught, even when they use the tools of technology to commit their crimes,"
Attorney General
John Ashcroft
said.
"The theft of intellectual property victimizes not only its owners and their employees but also the American people, who shoulder the burden of increased costs for goods and services. The Department of Justice is committed to pursuing and bringing to justice those who commit intellectual property theft."
The maximum penalty for a first-time offender convicted of conspiracy to commit felony criminal copyright infringement is five years in prison, a $250,000 fine, restitution to the victims and the forfeiture and destruction of infringing copies and all equipment used to manufacture infringing copies. Trowbridge and Chicoine will be sentenced April 29.
Source:
Hollywood Reporter