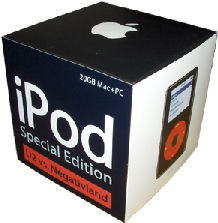 Francis Hwang
, director of technology at
Rhizome
, a digital-arts collective, was blocked from selling a modified iPod on eBay. The device which has received the name
Negativland vs. U2 iPod
was blocked from auction after
Apple
complained it violated its copyrights. Hwang has decided now to sell the product
on his website
instead. He tried to contact Apple for an explanation but received no reply, and still has no idea what, if any, copyright violations occurred.
"I think it's unfortunate that Apple didn't explain to me or anybody else why they did it,"
said Hwang,
"That kind of behaviour seems to speak of an attitude that is very corporate; you are accountable to the shareholders and customers but not to anybody else."
Hwang added seven albums from Negativland to the special edition U2 iPod. U2's label,
Island Records
, sued Negativland in 1991 for using an unlicensed sample of
"I still Haven't Found What I'm Looking For."
Hwang believes that the lawsuit was
anti-artistic
and questioned why Apple would pick U2 for make a special edition iPod.
"When you look at the Island Records v. Negativland case you see an internet era intellectual property case before the internet,"
said Hwang.
"I paid money to Apple and I used my own credit card to buy a U2 iPod, this thing that I'm selling is mine to do so."
He intends to sell the iPod even if Apple attempt a legal attack, then donate the money made to
Downhill Battle
.
Source:
Wired