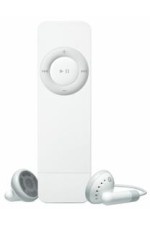 Apple
representatives at
CeBIT
Friday were forced to ask Taiwanese company
LuxPro
to remove a digital music player from its display case. The
"Super Shuffle"
digital audio player looks almost identical to Apple's iPod Shuffle at first glance. The main differences between the two devices are the Super Shuffle does not support Apple's
AAC
format and also has its own FM tuner, which the iPod Shuffle doesn't. The player does support
Windows Media Audio
with
Digital Rights Management
.
Apple representatives would not comment on what action the company will decide to take, as this does appear to be a case of copyright infringements on its design work. As we all know, Apple has been quick to launch lawsuits in the past against companies it accused of stealing it's design ideas and also has won. Some press reports indicate Apple is weighing it's legal options in this case.
The Super Shuffle was removed from display on Friday after complaints by Apple's lawyers but apparently it was back on full display by the next day. German technology site
Heise Online
described a discussion between an Apple product manager and the company representatives that did not end with any mutual agreement. Apparently, even the advertising done for the product looked a lot like those used by Apple.
Sources:
Betanews
Heise