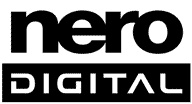 Nero, MediaTek and ATEME shake hands in order to produce chips with Nero Digital MPEG-4 support. MediaTek is well known for their chips user in optical recorders, but they have also provided the chipset for nearly a half of worlds DVD players. No doubt this may be a very good move for Nero, which has been pushing their digital format aggressively to several platforms, including stand-alone and mobile devices.
Nero Digital™, co-developed by Nero and ATEME, is the first complete MPEG-4 audio and video solution for home entertainment and CE devices. By offering chapters, subtitles and multi-channel surround-sound support, Nero Digital™ represents one of the very few 'all in one' solutions in the World of A/V compression. Nero Recode allows for the direct importing of most video file formats, and non-protected DVD's for encoding or transcoding into Nero Digital™.
Consumer electronics products integrated with the Nero Digital™ MediaTek MT1389 and MT1390 chips will greatly benefit end-users and CE manufactures by providing them with the world's leading AV MPEG-4 solution.
"MediaTek is committed to supplying its customers around the world with high-quality comprehensive IC chipset solutions for consumer electronics and PC products," said Jim Corbett, Executive Director of Nero AG. "Nero Digital™, the world's leading MPEG-4 solution fits perfectly into that commitment."
"MediaTek is committed to propose to the competitive CE market the new Nero Digital™ technology. We are pleased to expand Nero Digital™ popularity and offer end-users such a high level technology", said Vincent Huang, Vice President of MediaTek. "Nero Digital™ provides the best all-in-one solution including advanced AAC and MPEG-4 video codecs. With our advanced Nero Digital™ certified DVD chipsets, we commit to bring consumers the greatest advantage of the high quality video and audio playback."Source:
Nero