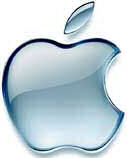 In he first quarter of 2005, more than five million
iPod
music players were sold.
Apple
's quarterly income has increased six-fold largely due to the success of the device. The firm's net income raised by a massive 530% to $290m compared to €46 over the same period in 2004. Revenues rose 70% to $3.24bn after good growth in all product categories. A number of approximately 5.3 million iPods were sold over the period, which is an increase of 550% in the same period in 2004.
Sales of PCs also rose to over a million (43% rise) following the success of the new
Mac mini
and new
PowerBook
notebook computers.
Steve Jobs
was delighted with the figures for the first quarter.
"Apple is firing on all cylinders and we have some incredible new products in the pipeline for the coming year,"
he said. 40% of the sales made were over seas, which showed the popularity of the iPod in Europe and Asia.
However, Apple said it expected earnings per share to be lower in the third quarter, at $28 per share as against $34 per share over the latest period and also expects revenues to remain largely flat at $3.25bn.
"Its second quarter is traditionally its toughest quarter and these numbers are good,"
said
Jim Fisher
, vice president and senior portfolio manager of
University Wealth Management & Trust
.
Source:
BBC News