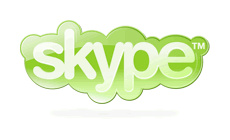 The fastest growing Internet Telephony Company,
Skype
has announced it has launched new services in selected countries. On Friday, the company launched a voice mail and phone access service in eight countries including the United States. Users could now get up to three phone numbers that can be called from any ordinary handset, fixed or mobile. Until now, users could only be contacted through Skype by a computer connected to the Internet.
"This makes Skype much more ubiquitous,"
Skype Chief Executive and co-founder
Niklas Zennstrom
told Reuters. The service now has 34 million registered users after never once advertising the software. Internet-routed communications costs a lot less than cable, satellite and radio telephony so Skype has been quick to build a huge member database. The company also announced that the software has now passed the 100 million downloads mark.
The new service called
SkypeIn
will cost ten euro for three months or thirty euro for twelve months and the voice mail service will cost just five euro for three months or 15 euro for a year.
"The new services represent an important new source of revenue for the company,"
Zennstrom said. Skype also launched
SkypeOut
in August 2004, a pre-paid service that allowed users to make calls to ordinary phones around the world at a low cost. SkypeOut already has 1.2 million registered users.
Skype said subscribers to SkypeIn would be able to get a personal phone number in the United States, Hong Kong, Britain, France, Sweden, Norway, Finland or Denmark for now but plans to add more countries later.
"Anyone may call the user at their SkypeIn number wherever the user travels, providing huge cost savings compared to mobile roaming rates and flexibility for Skype users to receive calls at home, at the office, hotel or anywhere,"
the Luxemburg-based company said in a statement.
In February the company also announced an agreement with
Motorola
to put Skype software on Motorola handsets. Zennstrom also said he was expecting the first Skype pre-loaded handsets, made by Dubai-based
i-Mate
to hit the market as early as this month, but did not say in what countries.
Source:
Reuters