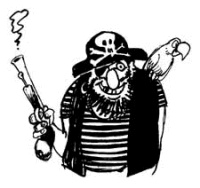 Three members of former Internet release group
DrinkOrDie
have been jailed for terms between 18 months and two and a half years in the UK. They were accused of breaking copy protection on commercial software and then distributing it around the world where it became available to potentially millions of people. While their actions apparently caused massive financial damage to the software industry, they did not make any money at all themselves from it.
You could view them as Robin Hoods of a digital world but prosecutor
Bruce Houlder
isn't convinced.
"It is the first prosecution for software piracy on this scale conducted in this country. They may see themselves as latter-day Robin Hoods, stealing from the rich to give to the poor, but in reality it is a cover for fraud."
he said. Judge
Paul Focke
told the defendants it was
"impossible to quantify"
the loss to others caused by their scam.
"The loss of software to owners through piracy is staggering. Also, the effect on related businesses and the lives of employees can be rendered catastrophic."
the Judge added.
Alex Bell
, 32, was jailed for two and a half years and
Steven Dowd
, 42, was jailed for two years. Accomplice
Mark Vent
, 31, was jailed for 18 months. A former school IT teacher
Andrew Eardley
, 35, escaped jail as he was given an 8 month sentence suspended for two years.
Source:
BBC News