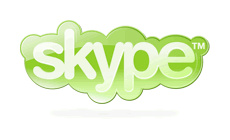 A new plug-in that can be used with
Skype
will allow Skype users to make video calls.
Dialcom
has released the plug-in which is designed for use with any third party VoIP network and Skype is the first service it is running on. The
Spontania Video4skype
requires users to have a broadband connection, a webcam and a Skype account to use video conferencing. This is a nice additional feature for Skype users, as Skype's popularity is growing hugely on a daily basis.
Skype has been working in recent months to grow beyond the boundaries of its own network. It introduces two new paid services,
SkypeIn
and
SkypeOut
. SkypeIn will provide a paying customer with phone numbers that can be reached by outside lines and SkypeOut allows users to call outside the Skype network for a relatively cheap cost. More than 150,000 new users sign up for Skype everyday, currently there are about 39 million registered users in total.
In an effort to even further Skype's popularity, the company has signed more than 1,800 affiliate websites that will share web traffic with Skype. The deal with affiliates is that Skype will pay sites about 10% of its own store purchase revenues when a buyer comes from their site. Some of the deals are with sites that have literally millions of registered users like
192.com
,
aSmallWorld
and
Firstream
.
Source:
The Register
Video4skype