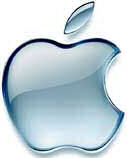 Apple Computers
shares fell by 5% on Friday following a rumour by
Appleinsider.com
saying that Apple is
"overstocked on most iPod models with about a month remaining in its third fiscal quarter."
The report came from information the site received from unnamed sources.
"Apple is believed to be sitting on its most significant inventory of iPod Shuffles since the player hit the market in February,"
the Web site said.
"According to reliable sources of information, tens of thousands of iPod Shuffles remain idle in the channels this week alongside a good number of iPod Photos."
it continues. iPod shuffle devices cost the least of Apple's music players at about $99 each.
Piper Jaffray
analyst
Gene Munster
said that the growing supplies is not surprising because Apple failed to introduce any new products during the quarter and inventory caught up to slowing demand for the gadgets.
"I think (the Web report) is right; there is inventory there, and we are only looking for a flat quarter"
Munster said.
"But (Apple's) quarter is going to be fine. There will be an upside to revenue and more upside to earnings."
Apple's shares slipped $2.02 to $38.01 in morning Nasdaq trade. Apple is currently the biggest seller of portable digital music players.
Source:
News.com