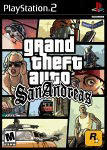 Many of the hardcore gamers who read through this site will have heard of a rumour that the PC version of
Rockstar Games' Grand Theft Auto: San Andreas
has hidden sex minigames in its code will be surprised to know that it now appears it may be real. San Andreas has been plagued with false rumours of hidden stuff in the game since the initial PS2 release of the game so it would be easy to dismiss the
"sex minigame"
rumour.
However, a mod called
"hot coffee"
apparently will unlock these minigames if installed on a PC with San Andreas installed on it. This has lead to the
Entertainment Software Ratings Board (ESRB)
launching an investigation into the game to determine whether or not it contains hidden sexually explicit content. Basically the investigation will determine whether the mod actually unlocks hidden existing code in the game, or if it was a third party creation.
The reason there is so much fuss over this rumour is simple; an ESRB requirement for full disclosure of pertinent content may have been violated by
Take-Two
if the game does in fact have hidden X-rated content.
"The integrity of the ESRB rating system is founded on the trust of consumers who increasingly depend on it to provide complete and accurate information about what's in a game. If after a thorough and objective investigation of all the relevant facts surrounding this modification, we determine a violation of our rules has occurred, we will take appropriate action,"
ESRB president
Patricia Vance
said.
Source:
Gamespot