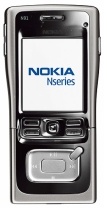 Despite an earlier report by Finnish daily
Taloussanomat
,
Nokia
has no plans to bring
iTunes
to the
N91
multimedia phone. After the earlier report, Nokia dismissed it but said that because of the designs of the phones, software developers could easily make programs like iTunes for the phones.
"There is no commercial agreement between Nokia and Apple to integrate iTunes into the N-series devices,"
said
Kari Tuutti
, spokesman for Nokia's multimedia division.
"But since this is based on a computer platform, anybody -- including Apple if they so wish -- can very easily develop this kind of application and offer it to consumers, via the Internet for example."
he added. Tuutti said the mobile phone giant had seen such applications in the research lab but didn't make any commercial deals.
"We are not making any exclusive arrangements with any music store, but believe that we want to give the consumer the choice of where they want to purchase their music."
he said.
In the near future, multimedia phones are expected to compete with
MP3
players like Apple's
iPod
music player. Nokia's N91 phone will store up to 4GB of music and will run on high-speed 3G and wireless LAN networks. The phone is expected to become available by the end of the month.
Source:
Reuters