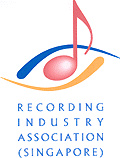 Singapore police said on Thursday that three Internet users have been arrested and charged with illegally distributing digital music files. This is Singapore's first crackdown on file sharing of copyrighted material since new copyright laws came into effect in January this year. The men, aged 16-22, are accused of sharing more than 20,000 files in
"Internet chatrooms"
. The three could now face stiff penalties for their actions.
Under the amended Copyright Act, Internet users who download pirated material on a commercial scale could face up to five years in prison and a fine up to S$100,000. The Police were working on a tip by the
Recording Industry Association of Singapore (RIAS)
, which represents local record companies and of course major International record labels. According to the police, they used an Internet chat program and a music-sharing program to distribute the content.
The RIAS told
Reuters
that it had sent warnings to those engaged in illegal file sharing and that prosecution was a last resort. According to Industry analysts, the growing availability of broadband Internet connections in Asia is driving the numbers of illegal music downloaders up especially in countries like China where piracy is already rampant. The result, we are told, is a major slump in music sales.
Source:
Reuters