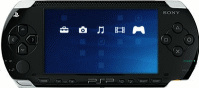 One of the biggest annoyances to European gamers who bought a
PSP
earlier this month is the fact that you can't run homebrew apps on
Firmware
v.1.52 or 2.0 which came on a demo disc with the
PSP
. Originally, everyone had been hoping for a downgrader to be written so that PSPs could downgrade to either 1.00 or 1.50 firmware; allowing homebrew code to be run on the PSP. Unfortunately a working safe downgrader just never showed up (yet), despite claims and promises by certain groups.
However, many will be glad to know that there has been progress made with 2.0 firmware. This news is a few days old so many of you may have already noticed the buffer overflow exploit that was discovered to exist in libtiff in the photo viewer on PSP 2.0. The first custom code to be run on PSP 2.0 simply made the screen colour change. Two files were needed, frame_buffer.png and overflow.tif.
The framebuffer.png had to be set as wallpaper, then the overflow.tif file had to be placed in the PHOTO directory on the Memory Stick. Once opened in the photo viewer, the colour of the screen changed. It's not something you would really have use for but it is simply proof of concept, that an exploit exists and could be used for more useful code.
After this release, more stuff began surfacing for PSP 2.0 including
Binary Loader v0.2 For PSP 2.0
which could execute a binary file (up to 64k) from the root directory of a Memory Stick. Then
Hello World v1 For PSP v2.0
appeared and later a
PSP Firmware Dumper And Flash Back-Up For 2.0
. There was also a
Pong Demo for PSP 2.0
released.
The ultimate goal would be to successfully launch homebrew elf files on PSP 2.0. There are already many many homebrew apps for the PSP written and available all over the Internet.
Sony
is worried about gamers being able pirate games by storing them on higher capacity Memory Sticks or playing games meant for other platforms.
Keep your eyes on the PSP sites to see what more will come from this.
Sources:
PSP Updates
PS2NFO