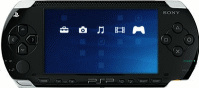 Sony
has released a
firmware
update for the
PSP
in Japan (a few days ago) and now in North America. However, there isn't really much of a system update in
PSP 2.01
from Sony. In fact, the only thing that 2.01 firmware does is fixes a
"security flaw"
. That security flaw is the same one that is used to run several small homebrew applications and loaders on PSP 2.00.
As most of you should be aware, the PSP 2.00 flaw that was discovered eventually led to the release of a downgrader that allowed PSP users to rollback firmware to PSP 1.50, allowing them to run homebrew code. Sony disapproves of running
"unauthorized software"
on PSPs and that is the only reason this PSP 2.01 update has come along.
So to put it simply, if you want to run homebrew on your PSP, do not update to 2.01. You can't run homebrew on anything newer than 1.50. However, if you have 2.00 firmware you can downgrade to 1.50. Read how to do that using
this guide
.
Sources:
PSPUpdates
PlayStation.com