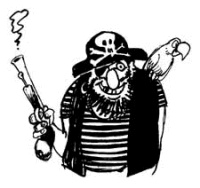 The first case in Sweden regarding file sharing of copyrighted works closed on Tuesday with confusion having raised more questions than answers. Along with the confusion and unclear text of the old copyright law in the country, the 28 year old defendant also shocked the court by retracting an admission he had reportedly made in police interviews. The police said the man had admitted to making a Swedish film called
Hip Hip Hora
available on a P2P hub for other users to download, however the man told the court there had been a misunderstanding.
The man said that he believed that he was being charged with downloading the copyrighted movie, which actually was not illegal until July 1st this year. During police interviews the man wasn't questioned about the film the case was based but in court he continued to shock by saying
"I have never had that film at home - I have never downloaded that."
The evidence against the man was provided mostly by
Antipiratbyrå (APB)
, a Swedish anti-piracy firm representing the films and games industries.
APB had been searching for sharers of copyrighted files using DC, and when it found the film Hip Hip Hora available, the IP address was recorded and handed to police. The Police then got the details of the 28 year old from the Internet service provider,
Bredbandsbolaget
.
Torbjörn Persson
, the defendant's lawyer, spent hours explaining to the court, the lack of certainty when an IP address is used as evidence, pointing out that many blocks of flats have unencrypted wireless networks that anyone could use to access the Internet.
He explained such terms as spoofing and hijacking to the Judges whom are all in their late middle ages, describing how one could exploit another's network. He described APB as
"informers"
and
"provocateurs"
and criticised the police for failings in their investigation. There are an estimated 800,000 people constantly sharing files in Sweden. This case is therefore front page news in the country.
A verdict is expected on October 25th.
Source:
The Local
Thanks to
venomX05
for sending us a
News Submission
.