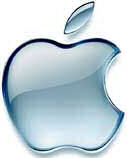 Apple Computers Inc
. unveiled on Wednesday another addition to the
iPod
family of products, this time with the ability to play back video. Speculation that Apple was to unveil an
"iPod Video"
was rampant on the Internet after Apple had invited journalists to a special event held today. The new iPod, which is again smaller and thinner than the normal iPod models comes with either 30GB storage or 60GB storage, priced at $299 and $399 respectively.
---
The company has sold 28 million has often added new editions and improvements to the models. The new iPod features a 2.5-inch screen to playback video or to view photos. The new iPod features a longer lasting battery, advertised with battery life of up to 20 hours, five more than before. It's about half an inch thin, with the 30GB iPod taking up 45% less space than the original iPod model.
The company also revealed it will begin selling some music videos through it's
iTunes
music store for $1.99 each, some short animations from
Pixar Studios Inc.
and also some popular TV shows from
ABC
for the same price a day after they air. The iPod is advertised a holding 15,000 songs (based on
AAC
128/kbps), 25,000 photos (based on iPod compatible photos imported from iTunes) and up to 150 hours of video (Video capacity is based on 4 minutes per
H.264
750-kbps video combined with 128-kbps audio.)
---
---
iPod Video Specs:
Holds up to 15,000 songs and full-color album art

30GB model is 4.1 x 2.4 x 0.43 inches; 60GB model is 4.1 x 2.4 x 0.55 inches

Bright 2.5-inch, 320 x 240 pixel TFT display

Up to 20 hours of battery life

Holds up to 25,000 photos

Holds up to 150 hours of video

Plays video or photo slideshows on TV via the optional Dock

Apple Click Wheel

Accessory-compatible Dock connector

Dock works with the new Apple Remote

Charges and syncs via USB

Works with Mac OS X or Windows 2000/XP

Syncs contacts, calendars and to-do lists

So all in all it sounds like a pretty nice device but we will all have to sit back to see if there are similar complints made about this model as there has been about the last iPod Apple introduced, the
iPod Nano
.
Source:
Apple
Thanks to
weazel200
for sending us a
News Submission
.
If you have seen news on another website that you would like covered at AfterDawn, or perhaps a new gadget that you think would fit in our news section, alert us by sending us a
News Submission
, Thank You.