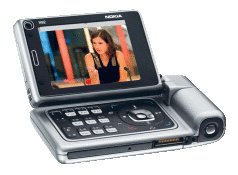 Finnish mobile phone giant,
Nokia
, released yesterday their digital TV
(using DVB-H standard)
-equipped phone,
Nokia N92
.
The phone is set to launch in second quarter of 2006 and uses, like other N-series phones do, Symbian S60 as its operating system. Nokia has been running DVB-H trials across Europe, most notably in Finland and UK and at least in Finland, the response from test group has been positive about the uses for TV-equipped phone.
The 3G TV phone also includes WLAN support, web browser and all the usual stuff you'd expect to find from a high-end Nokia phone nowadays. The screen of the device is 2.8-inch and uses 16M colors and has resolution of 320x240
(same as in VCD movies..)
.
According to Nokia, the phone will cost approximately 600 euros
(excluding the hefty discounts operators give for new users with long contracts)
.
Source: Nokia press release