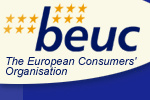 European Consumers' Organization,
BEUC
is protesting against
Digital Rights Management
and the litigation against file sharers. It is a federation of 40 independent national consumer organizations from the EU, accession and EEA countries. Its job is to try to influence, in the consumer interest, the development of EU policy and to promote and defend the interests of all European consumers.
Some days ago, as many of you have probably seen, the organisation issued a press release titled
"Consumers are not pirates"
. For those of you who have not seen it, here it is..
"P2P is like stealing a CD in a shop!", "We have to protect artists who are being robbed by consumers on the Internet!".

We are being fed this type of "truth" thanks to the efforts of certain major music and film industry interests.

For this reason, we are launching today with a press conference in the European Parliament and with the support of Mrs Zuzana Roithová MEP, a Campaign supported by a "Declaration of Consumers' Digital Rights", which aim to ensure that the following rights are recognised, enshrined in EU law and enforced:



Right to choice, knowledge and cultural diversity;

Right to the principle of "technical neutrality" – defend and maintain consumer rights in the digital environment;

Right to benefit from technological innovations without abusive restrictions;

Right to interoperability of content and devices;

Right to the protection of privacy;

Right not to be criminalised.



In addition the declaration calls for industry to desist from legal action against P2P downloaders to allow the market to find solutions for the on-line development of audio/visual distribution, and for action to ensure that DRM users respect consumer privacy and fair use rights.

"The industry insists on "informing", or rather "misinforming" consumers on what they cannot do in the digital world. We believe it is high time to guarantee consumers certain basic rights in the digital world and to tell them what they can do with their digital hardware and content", said Jim Murray, BEUC Director.

In order to show the problems consumers face, we are also publishing today the results of two pan-European surveys on cultural diversity online and on interoperability between online music stores. The results of these tests can be found on our new website www.consumersdigitalrights.org.
Source:
ConsumersDigitalRights.org
Thanks to
Daniel_G
for the
News Submission
.