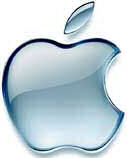 According to
Think Secret
,
Apple
is planning to launch a new content distribution system alongside the Mac Mini in January at the
Macworld Expo
. This service is made with content providers' interests in mind more than those of consumers. To ease worries about
Digital Rights Management
(DRM) protection on video content, Apple's new service will deliver content to customers in a way that it will
"never"
be stored on a user's hard disk drive.
Instead it will be stored on a user's
iDisk
which
Front Row 2.0
will tap into. When someone wants to watch content they have purchased it will have to be served live at the highest bandwidth the Internet connection will allow. It is more than possible that video content can be stored on a video
iPod
however, but never on a computer HDD. There are a few advantages to this approach for consumers however.
Consider that you pay 99c per track on
iTunes
per music download, they are then stored (DRM protected) on your HDD (or your iPod). If you somehow lose those files, they are lost forever and it's just tough luck for the consumer as far as Apple is concerned. With the new distribution system, you are guaranteed not to lose your content. Also, purchased content will not fill up a user's hard disc drive either since it will be stored on Apple's servers.
However, in this case for consumers, the bad may outweigh the good. Consumers generally prefer to have a product, even if it is just data stored on a HDD, it still gives some feeling of ownership. This new system seems more restrictive than helpful, and I think most users here would agree it would be undesirable to see systems like this dominate media content purchasing in future?
Source:
Think Secret