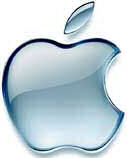 The
iPod Shuffle
music player has been labeled as this years
"must chav gadget"
by the UK's top gadget experts and the staff of
Tech Digest
and
Shiny Shiny
.
"The shuffle is perfect for chavs,"
said the judge's citation.
"It's cheap. It's by a cool brand, and you can let others know you have one as it is designed to be worn round your neck. As it is white it also accessories well with those classy gold chains Chavs wear."
However, the iPod Shuffle is possibly the worst music player in Apple's line-up. It has no screen display so you have to rely on the player to choose the music for you in an appropriate order - and it doesn't really look that good in comparison to other iPod models. So maybe it's not the best gadget for a bunch who claim they "got style n' class". Runner up for the Chav gadget was the
Motorola RAZR
phone.
Apple
was also lucky to have the
iPod Nano
win the Shiny Shiny icon award and for a while it was tied with
Sony
's
PlayStation Portable (PSP)
console for the gadget of the year award. However, in the end, the
PSP
pulled ahead of the tiny
MP3
player to take the award. Still though, second place isn't bad for one of the most complained about MP3 players in the history of the market.
Source:
The Register