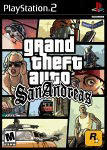 The city of Los Angeles has sued
Take-Two Interactive Software Inc.
over the hidden sex minigames in
Grand Theft Auto: San Andreas
. When a mod for the game known as
"Hot Coffee"
was released on the Internet to unlock these hidden games, it sparked outrage, especially from the
Entertainment Software Ratings Board (ESRB)
. The game was given a new rating of
"AO"
which stands for
"Adult Only"
. Since most retailers don't sell games with AO ratings, the company had to modify and release a new version of the game without the extra code.
Los Angeles City Attorney
Rockard Delgadillo
, accused the game publisher of failing to disclose the pornographic content included in the game. He said the company then further deceived consumers by blaming it all on hackers, which it accused of modifying the code to include the minigames. It turned out that the minigames were already present in the game, and all the Hot Coffee mod did was unlock them.
The lawsuit demands that Take-Two and
Rockstar Games
, the subsidiary behind
"Grand Theft Auto,"
one of the best-selling in video game franchises history, stop marketing the games to children, pay fines and return $10 million in profits. Shares of Take-Two plunged 18.4 percent to $13.90 on the Nasdaq in late morning trade, after earlier hitting an almost three-year low of $13.68.
Source:
Reuters