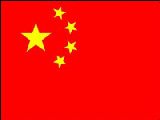 Anti-piracy efforts in China are looking up, at least on the Internet, as it has been announced that 172 cases have been cracked and 76 websites shut down across the country. This was the result of a three month crackdown to attempt to target massive online piracy in the country. The announcement was made by the
National Copyright Administration of China (NCAC)
. 137 sites were forced to remove illegal content and 29 owners of the sites have been fined a sum of 789,000 yuan (US$98,625).
The move against Internet piracy came from the
Ministry of Public Security
, the
Publicity Department of the CPC Central Committee
and the
Ministry of Information Industry
as well as other relevant departments since September 2005. The areas best affected following the actions are Beijing, Hainan, Hubei, Shaanxi, Shanghai, Shandong and Guangdong. 8 of the cases have been handed over to the judicial departments for criminal investigation.
Source:
Xinhuanet