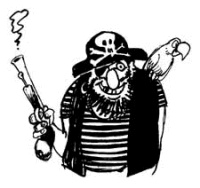 Following a raid on his work premises back in May 2003,
William Agnew
, a 50 year old ice cream man from South Lanarkshire, has been convicted for running a piracy operation from his van. Agnew would sell vast amounts of pirated movie DVDs, music CDs and games when he did his rounds in the ice cream van. He admitted to trademark offenses and was sentenced to serve 200 hours community service at Hamilton Sheriff Court.
The raid on his premises in 2003 turned up 4,000 pirated discs. The
Entertainment and Leisure Software Publishers Association (Elspa)
has publicised the man's conviction and has estimated that the seized material would have been worth £100,000 if it were sold as new. His business premises were located in Blantyre.
Source:
PC Pro