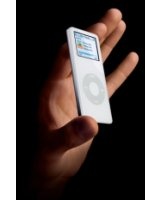 Apple Computer Inc.
has yet again been hit by a lawsuit concerning the company's
iPod
music players and again, this lawsuit concerns the easily scratched
iPod Nano
. The company is being sued by a consumer group that claims the company is breaking product warranty by charging $25 for replacement of defective Nano players. Los Angeles-based
Foundation for Taxpayer and Consumer Rights
claims that the device cannot endure normal usage without getting scratched to the point where it becomes unusable.
The suit was filed Thursday in San Mateo County Superior Court. It demands that Apple replace defective units for free or refund the purchase price if the customer wants it, and it also demands that Apple add scratching and cracking to its warranty coverage. An Apple spokesman declined to give any comments as it is company policy not to comment on pending litigation.
Over 42 million iPods have been sold worldwide; 30 million of those units were sold last year. The law firm behind the latest Nano suit,
Cotchett, Pitre, Simon & McCarthy of Burlingame
, is seeking class-action certification. The same firm won a settlement last August over old model iPod batteries.
Source:
Mercury News