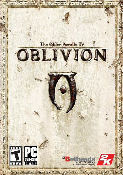 The
Elder Scrolls IV: Oblivion
, a popular fantasy role-playing game co-published by
Take-Two Interactive Software
&
Bethesda Softworks
has had its rating changed due to a mod that makes female characters appear topless and also for
"excessive gore"
. The
Entertainment Software Ratings Board (ESRB)
changed the rating from
"teen"
to
"mature"
, which brands it only suitable for players aged 17 and over. This is the second time that a modification has resulted in a game developed or published by Take-Two receiving a tougher rating.
The board also said that the detail and intensity of the blood and gore was understated by Bethesda in its initial application.
"We don't expect there to be a financial impact,"
Take-Two spokesman
Jim Ankner
said. Most copies of this game sold were for
Microsoft
's
Xbox 360
console, whereas the mod is just for the PC version of the game. It was created by a third party to edit an art file in the PC version according to the ESRB.
Take-Two and Bethesda said in April that shipments of Oblivion were over 1.7m worldwide. Shares in Take-Two dipped less than 1 percent in extended trading after the rating board's announcement, then rebounded to $16.33, slightly above its Nasdaq close of $16.31.
Source:
Reuters
For gaming news and other content, please visit Blasteroids.com