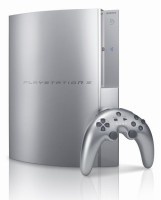 Kaz Hirai
,
Sony Computer Entertainment America
CEO, has defended the cost of both versions of the PS3 console that will be available in November. The higher priced version, which will cost $599, provoked a shocked response from some gamers on the Internet, but Hirai believes this is a very good price when you consider what's under the hood of this next generation console. The most highlighted point is the inclusion of a
Blu-ray
player.
"I think when you look at what we put into the box – Cell, Blu-ray, backwards compatibility, the ability to go online - I think it's a very compelling package for consumers,"
Hirai said.
"The totality of what we bring to the table makes it a good value for consumers."
Stand-alone Blu-ray players will cost $1,000 or more when they are launched in the United States. Taking the components of the PS3 into account, the $599 price is a good deal, but the $499 model has significant differences which might cause problems in future.
The more expensive model has a 60GB HDD compared to the 20GB HDD in the $499 model. In addition to lower storage capacity it also lacks Wifi capabilities,
High Definition Multimedia Interface (HDMI)
support and doesn't include a card reader.
"We felt that if you want to save something on your Memory Stick, most people have those readers on their PC, which is easily adaptable to the PlayStation 3 with a USB cord,"
said Hirai.
"The only difference is HDMI – and at this point, I don't think many people's TV's have that. The ultimate result, to my eyes anyway, is there's not a discernible difference between what you get between HDMI and other forms of high definition."
While his comments might be true, the lack of HDMI just might cause complications for consumers who buy the $499 model for its Blu-ray player. Major movie studios pushed for HDMI on
HD DVD
and Blu-ray players because of
HDCP
, which offers more content protection. At this point it is unknown whether or not the PS3's Blu-ray playback abilities will be affected without HDMI. When asked about such complications, Hirai said that it was
"too early to speculate at this point"
.
The main alarming thing about the launch details was how Sony followed
Microsoft
by making two versions of the console available.
"We wanted to give the consumers the option to choose what fits their needs,"
Hirai said. He likened it to buying a new PC, where you only need to select the components you need and not pay for something you wont use and said that it will likely be the standard to have multiple versions of new consoles at launch from now on.
Sony also assured gamers that it won't be affected by shortages like those Microsoft faced when the
Xbox 360
was launched late last year.
"We have the advantage of manufacturing our own chips,"
said Hirai.
"Most of the PlayStation 3's core components are manufactured in-house. The decision to give the go order comes when we're getting good yields. ... Obviously, the sooner the better, but we're not at the mercy of someone else."
The company expects to ship 4 million units by the end of 2006, and a further 2 million in the first quarter of 2007. No details were given on how many of either PS3 model would be manufactured for launch.
Source:
CNN