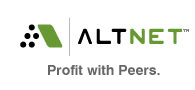 In a patent infringement case that kicked off in 2004,
Altnet
, a subsidiary of
Brilliant Digital Entertainment, Inc.
, has announced it has reached a settlement with
Loudeye
and
Overpeer
. The suit was originally brought against the
Recording Industry Association of America (RIAA)
, Loudeye Corp., Overpeer Inc.,
Media Sentry
(now part of
SafeNet
) and a number of individuals. Media Sentry and Overpeer were two of the companies responsible for
"poisoning"
P2P
networks like
FastTrack
with fake files.
The method used to distribute these spoof files infringed two patents critical to
P2P
business.
RIAA
executives and other defendants were reportedly put on notice about their infringement of the patents before the lawsuit was brought.
"We welcome this settlement as an important step toward the acknowledgment and recognition of the TrueName patents as a prerequisite to legitimate utilization and exploitation of P2P technology."
said
Kevin Bermeister
, CEO of Altnet.
Overpeer has admitted that its activities did in fact infringe the
TrueName
patents in question, and has further undertaken not to engage in those activities in future.
"It validates the position Altnet has held with regard to treatment of piracy occurring within P2P applications and establishes with clarity the underlying importance for Altnet to be considered an integral part of the future online entertainment industry,"
said Mr. Bermeister.
The settlement was filed in the Los Angeles District Court. The case against the remaining defendants will likely go to trial next year.
Source:
Altnet (Press Release)