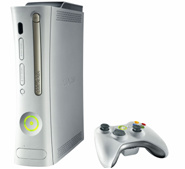 Microsoft Corp.
has revealed it has no immediate plans to lower the price of its
Xbox 360
console. This comes after rumors that Microsoft would drop the price on the 360 by at least $100 to challenge prices of
Sony's PlayStation 3
console, which launches in November.
Microsoft Europe
representative
Chris Lewis
told
Club Skill
"We have no plans to make any price adjustment. The last couple of days have reinforced the fact that we have a great value proposition, giving consumers choice, thanks to the core system. We're not forcing the consumer down a route with HD playback. We certainly don't think it's necessary to make any changes to the current price point."
He also went on to dismiss any rumours of an up and coming handheld Xbox console.
"We've got quite a lot going on,"
he said.
"It's a hugely significant time for us and for gaming in general. We don't have any plans to do anything in the handheld space."
Source:
Club Skill