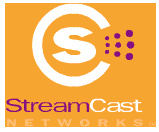 StreamCast Networks
, the makers of the
Morpheus
peer-to-peer software, alleges in a lawsuit against internet auction giant
eBay
is profiting from peer-to-peer technology that rightfully belongs to it.
StreamCast claim in a lawsuit filed to the
U.S. Central District Court
in
Los Angeles
on Monday that
Niklas Zennstrom
and
Janus Friis
, the pair that developed the technology behind the companies
Kazaa
and
Skype
, of breaking an agreement to give StreamCast the first right to purchase their
FastTrack
p2p protocol. FastTrack was formerly the network which Morpheus' file-sharing application operated on and is also the technology foundation of Skype's voice over Internet Protocol (VoIP) service.
Up until this lawsuit, the companies had always shared a close working relationship, revealed
Michael Weiss
, StreamCast's chief executive. Weiss added that StreamCast played major role in the development of FastTrack and that the company had paid to guarantee the right to acquire FastTrack. But then, according to the lawsuit, Zennstrom made plans in secret to ignore the deal and sold the technology to a shell company.
"FastTrack, which Skype has been founded on, was built through a collaboration of (the two companies),"
Weiss told in an interview with
CNET News.com.
"We absolutely would have paid them the fair market value and would have met and exceeded other offers for the technology."
Monday's suit is an amendment of a suit first filed in back in January. The complaint now adds eBay to the 21 companies previously named as defendants and also requests that the court force Skype, which was acquired by eBay last October, to halt all sales of its' VoIP products.
Within its' complaint, StreamCast is asking for more than $4 billion in damages. An eBay spokeswoman declined to comment on the lawsuit.
Source:
CNET