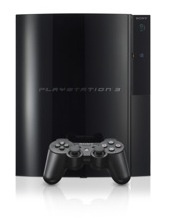 European online retailer
Play.com
has listed a bundle of 60GB
PlayStation 3
on the Internet, consisting three games it has been priced £549 ($1,019), excluding taxes or shipping. However, most of the gaming products are cheaper in the US, and the PS3 was originally announced to launch for 599 euros or 425 pound in Europe, which translate to $758 and $799, while the console was announced to retail for $599 in the US.
The games included in the bundle are
SingStar
,
Warhawk
and
Formula One 06
. Presuming that the £425 PS3 price is correct, the three games will sell out for £124 ($229) or around £41 ($75) each. But don't just yet go wrapping up your christmas presents, Play.com doesn't promise delivery before Christmas.
This surely isn't all we're going to hear from expensive bundles. The upcoming launch of PS3 and
Nintendo
's
Wii
will encourage retailers gathering one another crazier bundles.
Source:
GameSpot

For more gaming news, please visit Blasteroids.com and for more PS3 discussion join PS3 - General discussion forum.