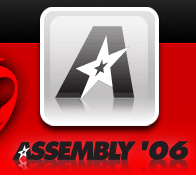 This is Agent_007 reporting from
Assembly
'06 live. Keep checking out this report from Thusday as I keep updating it as things progress. You can also watch livestream from
here
.
People standing in a queue. One advice, keep you gear lite and small. Carrying that 21" CRT around ain't fun =)
Photo from inside the party hall, lights are still on.
Again from the party hall.
Because there are over 5 000 beverage addicts inside party hall there are also lot's of softdrinks, no alcohol inside.
More soft drinks.
Anti-virus and firewall company F-Secure.
On screen visitors can see real time virus threats around the globe.
You can also check out bluetooth devices that are near by.
IT tech ain't the only thing in Assembly. Nice RC car with LEDs.
Next stand is Microsofts. Ghost Recon PC version with Xbox 360 pad.
There were also nice beds for partiers to sleep. Microsoft also gave away Vista Beta 2 and Visual Studio Express Edition discs for free (Freebies +2).
EVTEK-polytechnic offers Apple Macintosh computers for people to use (not to keep or take =).
Samsung LCD display with 2 ms response time, game on background is King Kong for PC.
Opera stand.
Opening Ceremony, there were some problems with audio so we didn't really hear what organizers
Pehu
and
Abyss
had to say. There were also two lucky guys near the stand and they got free Radeon X1900 series videocards sponsored by ATI.
ATI stand (I am sorry about dark photo).
ATI bought Bitboys earlier this year, now they were showing some mobile prototypes.
They support naturally 3D hardware acceleration.
And videos also played out nicely.
Photo after lights are shut down (and real parties get started).
Gamelab is place for HC games. Gamelab is more silent and peaceful place.
Photo from one of the seminars, this was about 4k demo coding and code optimization for Linux.
Microsofts Xbox 360 camping trailer, I plan to visit there tomorrow and check it out.
One way to sleep around here =)
Shot from upstairs.