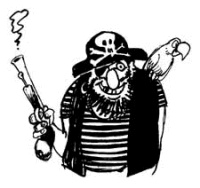 id Software
owner
Kevin Cloud
recently spoke about some problems that the PC gaming industry will face in the future. While he insisted that id will remain primarily a PC developer, he said that piracy has become a major concern for him.
"Piracy is hard,"
Cloud said, in response to a question.
"It's really, from my opinion, destroying the PC market."
He blamed piracy for the reduction of PC games in retail stores.
However, despite the view, he said he believed the PC gaming industry as a whole is not in any immediate danger.
"I don't think the PC market is shrinking at all,"
he said.
"I think there are tons of people playing games on the PC. I think World of Warcraft is a good example."
World of Warcraft is a good example of avoiding piracy. Requiring a subscription to play has given the game success even in markets like China.
"There is about 70 percent of the landmass of the world where you can't sell games in a legitimate market,"
he said,
"because pirates will beat you to the shelves with your own game."
Of course, piracy doesn't just happen in these markets, but in wealthy countries too. Many pirates in these countries claim that wouldn't have bought the software or game anyway.
As a highlight of the piracy problem,
Ritual Entertainment
discovered that after the release of
SiN Episodes: Emergence
, support calls from people with pirated copies outnumbered those with legitimate copies by a ratio of five to one. Offering support is expensive so you could imagine how developers feel about offering support to people that didn't even pay for the product.
Cloud admits however that there is no solution in sight yet for this problem.
"This industry is trying to work on that kind of a problem,"
he concluded.
"And it is a very serious problem. There isn't any magical solution, or else we'd solve it."
Of course, copy protection technology and other methods have been tried and tried again often with unintended results.
StarForce
for example is resistant to cracking but has caused several technical problems on machines it was installed on.
Source:
Ars Technica