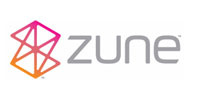 Music company
EMI
has agreed to put music videos of it's signed bands preloaded on the
Microsoft Zune
when it's launched. Such British bands as Hot Chip and 30 Seconds to Mars.
After initial reports came out, many speculated that the Zune would not play video, however this new deal seems to prove that the Zune just may be an all around device. With the ability to download software, play video and music, Microsoft may have a contender to take the 70% share away from rival
Apple
.
Details on the Zune are still few and far between, however it has been said that the Zune will come with a hard drive and wireless access allowing it to download software and music on the fly.
Source:
BBC