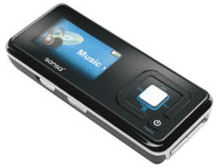 SanDisk
, the world's largest supplier of flash data storage card products has taunted market leader
Apple
with the price of its latest
MP3
player. The flash-based
Sansa c200
series MP3 player comes in two capacities; 1GB and 2GB. The 1GB model has a suggested retail price of $79.99 and the 2GB model has a suggested retail price of $99.99. Compare those to the
iPod Nano
prices of $149 (1GB) and $199 (2GB).
The player has everything you would come to expect; support for the
WMA
, MP3 and the protected WMA
DRM
formats (supports subscription services through Microsoft's
PlaysForSure
), photo displaying abilities with its bright LCD screen, 15 hours playback from the user replaceable lithium-ion battery, a voice recorder and an FM tuner/recorder with presets for 20 channels.
Additionally, if you fill the player with music, you can also use a SanDisk
microSD™
card, which currently is available in capacities of from 256 megabytes (MB) to 2GB for extra storage. The player is 1.3" x 3.1" x .6" and weighs about 1.51 ounces with battery. The SanDisk c200 is expected to be available from retailers in the U.S. and Europe in October, with other regions following later.
The device was shown at
IFA
, the world's largest consumer electronics show, where SanDisk is exhibiting at Booth 103, in Hall 2.1 of Messe Berlin, through Sept. 6.
"The c200 has some of the characteristics of SanDisk's award-winning e200 series, including a small and sleek design and a microSD memory card slot that allows for expansion opportunities,"
said
Keith Washo
, SanDisk retail product marketing manager for the c200.
"We believe that the c200, with its great price point, will give consumers an attractive set of features normally found in players costing much more."
Source:
SanDisk (Press Release)