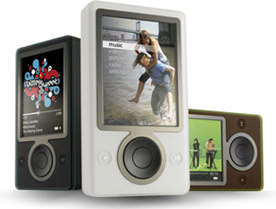 Microsoft Corp.
on Thursday revealed that its upcoming
Zune
digital music player will retail at the same price as
Apple
's market-dominating
iPod
; even though its need to compete with the iPod pricewise may see the world's largest software maker lose money this holiday season.
"We had to look at what was in the market and offer a competitive price,"
said
Scott Erickson
, Microsoft's senior director of product marketing for Zune.
"We're not going to be profitable this holiday but the Zune project is a multiyear strategy."
Once on sale on November 14, Microsoft's 30gb Zune will cost $249.99, only 99 cents more than the 30gb iPod. Also, songs on the
Zune Marketplace
, Microsoft's online digital music store, will cost 99 cents - the same price as Apple's
iTunes Store
, which currently leads the market for 'legal' online digital music downloads.
The Zune, manufactured by Japanese electronics maker
Toshiba
, faces a tough challenge against an iPod brand which has been around for five years and has sold millions of units worldwide on its way to the summit of the mp3 player market. But it will pack a few feature advantages over its Apple-branded rival, such as wireless connectivity, an integrated FM radio, as well as a large three-inch screen.
Microsoft also said that a subscription pass for its music service will be charged at $14.99 a month, allowing users to listen to any of the 2 million-plus tracks it pledges will be available on the Zune Marketplace at launch. However, once the pass expires, consumers will no longer be able to access the songs.
If one wants to actually own a song, then the Zune Marketplace will sell tracks for 79 Microsoft points. A user can buy 80 Microsoft points for $1 and and points will also be redeemable at its online video game store,
Xbox Live Marketplace
.
Source:
Reuters Canada