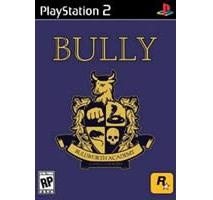 The controversial video game
Bully
, in which character defends himself from school bullies, has been banned from some UK shops. The game, known in Britain as
Canis Canem Edit
, will not retail in either
Currys
or
PC World
, with parent company
DSG International
claiming game was not inkeeping with its "family-friendly image".
Many in the United States have campaigned to have the
Rockstar
-developed game banned in some areas. Florida lawyer
Jack Thompson
had argued that Bully was a "Columbine simulator". However a Florida judge
decided against
a ban earlier this week.
"We took a view that because it touches on a sensitive issue - violence in school - that it is not a product we would stock,"
said DSG spokesman
Hamish Thompson
.
"We are committed to a good working relationship with Rockstar Games and will continue to stock all of its other titles."
.
The title is scheduled for release on 27 October in the UK, and will still stock in other popular retailers such as
Game
,
HMV
and
Woolworths
.
Source:
BBC