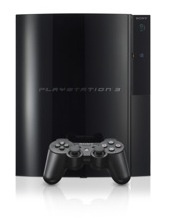 Sony Computer Entertainment
has unveiled details of the
PlayStation 3
s online service and also the list of 21 games to be available at launch.
Avid gamers have been waiting for months for Sony to release details of its online system, which will be called the
PlayStation Network
and give PS3 owners the opportunity challenge other gamers, chat, download extras, store images, video, or music and browse the net using the custom built version of the
Opera
browser included in the PlayStation 3. Sony's offering will differ from rival
Microsoft
's
Xbox Live
service in that it will be free to use, although users will have to pay for downloadable games and other extras.
The navigation system for the PlayStation Network is based on that of Sony's handheld gaming gadget, the
PlayStation Portable (PSP)
, which includes a "Friends" area in which users manage online gameplay, as well as access to any images, music or movies stored on the device.
PS3 owners will be able to buy downloadable games, extras for games, movies and music via the Sony PlayStation store. Downloadable games are expected to cost around $15 (£8).
Meanwhile Sony also revealed the list of 21 titles that will be available for the PS3 when it launches. The games, which are expected to cost around $59.99 (£32) are:
Additionally, the owners of the first 500,000 consoles sold in North America will also receive a free Blu-ray copy of the
Talladega Nights: The Ballad of Ricky Bobby
movie.
Source:
BBC

For more gaming news and discussions, please visit Blasteroids.com